Three branches of government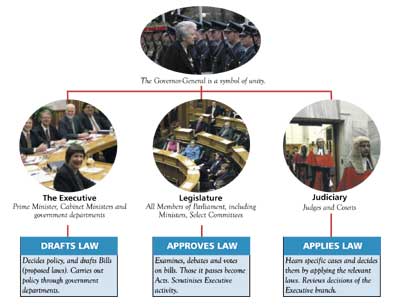 New Zealand's system of Government follows the Westminster model, with a constitutional monarchy, a sovereign Parliament, and the essential business of government distributed among three separate entities.
This principle of distribution is known as the separation of powers. It exists to ensure that the principal powers of the government, that is, legislative, Executive and judicial, are not concentrated in the hands of any single set of persons.
Each of the three branches has a specific function:
The legislature, which in New Zealand is the single chamber House of Representatives, retains the legislative power to make laws, through drafting, examining and debating bills. Unlike Australia and England, New Zealand no longer has a second chamber in the form of a Senate or an upper House.
The Executive, made up of the Crown (represented by the Governor-General), Cabinet Ministers, and the public service, has responsibility for developing, initiating and implementing policy, as well as for the publiction and administration of legislation.
The judiciary comprises the Judges and the courts, and exercises the power to interpret and apply the law through the court system.
As the New Zealand Parliament has no upper House, it is up to the MMP electoral system and the strong select committee system to ensure that the Executive does not dominate the legislature. This role is exercised by the Senate in Australia and the House of Lords in the UK.
The actions of the Executive are also subject to the restraints of the Treaty of Waitangi, the New Zealand Bill of Rights Act, the Human Rights Act, and international law.

This account is by Diane Salter, who uses the diagram in her professional development of policy analysts and managers in the public and private sectors. It was developed for the 5th edition of the DecisionMaker Guide to Parliament and Government, and readers can find out more from the Office of the Clerk at NZ's Parliament, and can find out more also from the Ministry of Justice
Link updated 21 December 2005