Our House: A house of representatives should, ideally, be ...
International perspectives on democracy: Commonwealth heads of government leaders said in their ...
Electing Parliament: The MPs and the political parties in New Zealand's Parliament are elected ...
Members of Parliament: In the 27 July 2002 general election, Labour gained 52, National 27, New Zealand ...
Forming the government: The Labour and Progressive Coalition Parties in Parliament have agreeed ...
Composition of Parliament: New Zealand's Parliament is a place where more and more sections ...
The New Zealand Business and Parliament Trust: The New Zealand Business and Parliament Trust was formed in 1991 to bridge ...
The role of the speaker: The Speaker of the New Zealand House of Representatives is the highest officer ...
Who drafts the laws? To make sure laws ar written correctly, Parliament has ...
The Office of the Clerk: The position of Clerk of the House of Representatives is one of the oldest ...
Parliamentary Service: The Parliamentary Service is one of two parliamentary agencies providing ...
What MPs do: Conventions, not job descriptions, guide what ..
MP's pay: Members of Parliament currently receive a ....
Living two lives: John Key, aged 41, National MP for Helensville, was an investment ...
From Youth MP to youngest MP: Darren Hughes, at 24 New Zealand's youngest ...
Government and Opposition: There is a tradition of thinking that asserts that ideas change with ...
How laws are made: Parliament is New Zealand's supreme law-making body. It's members study ...
Select committees: After a bill is introduced to Parliament and has been given its ...
Petitioning Parliament: Every New Zealand citizen or resident has the right to petition Parliament ...
Visiting Parliament: People come for many reasons to tour New Zealand's Parliament ...
150 years: The New Zealand Parliament celebrates its 150th ...
International perspectives on democracy
The proportional representation system, MMP, has helped make Parliament more diverse and representative of New Zealand society.
Commonwealth Heads of Government leaders said in their 1999 Fancourt Declaration on Globalisation and People Centred Development:
"If the poor and vulnerable are to be at the centre of development, the process must be participatory, in which they have a voice… good governance and economic progress are directly linked…Good governance requires inclusive and participatory processes at both national and international levels."
The Commonwealth Foundation "targets priority needs including poverty eradication, health, gender, disability, sustainable development, non-formal education, community enterprise, inclusion of indigenous and other culturally diverse groups…"
Leaders in the Citizens and Governance programme of the Commonwealth Foundation call for "A new compact between the citizen and a democratic state."
Commonwealth Education Ministers at their Halifax meeting identified the need for citizenship education. Commonwealth Secretariat officials say schools do not deliver citizen education alone. Society has an essential role, including the use of democratic patterns in schools and with parents. They say values and principles are not sustainable till youth are involved.
The Citizens and Governance programme calls for:
a strong state and a strong civil society
a deepening of democracy through the development of a culture of participatory democracy
an enlarged role for citizens and their endeavours and for strong connections among them; between them and government; and between them and civil society organisations.
The common message distilled from wide consultation leading to the Citizens and Governance programme was that: "The new consensus for the next millennium is thus about responsible citizenship, and responsive, participatory democracy. The two are mutually reinforcing and supportive.
Strong, aware, responsible, active and engaged citizens along with strong, caring inclusive, listening, open and responsive democratic governments…
Find out more!
Centre for Citizenship Education
Box 3978, Wellington
Mobile: 027 242 2301
Email: Anthony Haas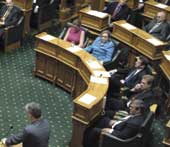 © Photography by Woolf