Having your say in health and disability: New Zealand communities can have a direct say ...
Why consult: Informed consultation assists DHBs, health service providers, and the public to ...
Plans: Each of the 21 DHBs is required to enter into a funding arrangement ...
"Start here" list of priorities: Given the large amount to do in the health sector, the Minister of Health ...
Understanding consultation: Consultation must take place with the...

Why consult?
Informed consultation assists DHBs, health service providers and the public to:
gain the full picture, understand and identify different communities' needs and priorities
provide opportunities (geographical, professional and communities with common interests) to participate in the development of policy and strategic decisions, and to test new ideas
enhance the boards' decision making by receiving information, opinions and ideas – as well as feedback from communities
be accountable
value consumer, community and provider input
build positive relationships
build consensus and encourage others to take co-ordinated actions
develop partnerships
collaborate in shared ownership of solutions
share understanding of the decision making process and the decisions that are reached – even when some members of the community do not agree with them.
Consultation is a positive process that can contribute significantly to decision making. That, in turn, should result in better or more appropriate services for a region, better value for money and better co-operation and understanding from the public, allowing people to understand why and how decisions have been made.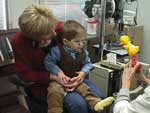 Affiliated programs Sitemap Privacy Accessibility Terms of use

Search powered by
Copyright © 2006 Asia Pacific Economic News Ltd. All rights reserved. Users of the Guide are free to make copies or entire pages for personal or educational use, but not for commercial purposes. Copies of individual photos or ilustrations may not be made without the permission of the copyright holders. Use of this website signifies your agreement to the Terms of Use.