Pacific citizens: Though 50 years ago there was not much contact ...
Pacific Cooperation Foundation: Just as the Asia 2000 Foundation was ...
Tackling Pacific Island problems from within the Parliament: Strategic thinking about ...
The agenda: THEN: Social issues were important ...
Improving partnership: There is a need to revive the Pacific Islands ...
Tackling blindness among Pacific peoples: Tongan public health specialist ...
HIV AIDS - moral and medical solutions: Public health and other policy planners...
Tongan job solution: Managed employment is a Tongan New Zealander's private ...
The new tertiary landscape - what's in it for Pacific peoples?: Education is ...
Making good citizens: In our Pacific region, and elsewhere in the world ...
Involving Pacific peoples in local decisionmaking: The question all New Zealand ...
Tangata Pasifika? Michael Powles, who has worked ...
Endorsing good governance: Former New Zealand career diplomat Gordon Schroff ...
Need not be conflict: Issues in Pacific governance - where one size does not ...
Cooperation wins: Greater regional cooperation on common issues might ...
APEC and PECC: Though New Zealand seeks to be a good international ...
Advocacy on market access: The Pacific Islands Trade and Investment ...
Being Pa'alagi: The Being Pa'alagi programme, in which I looked back ...
Collaboration key to achieving vision: The vision of the Ministry of ...
Talk to all pacific cultures with one voice:
Ethnic Communications

Making good citizens
By Roger Peren

In our Pacific region, and elsewhere in the world, more and more stress is being put on good citizenship and good governance.
People are being shown how to go about their lives in a pluralist society in their own best interests and for the benefit of the community as a whole. Good citizens make for good government.
The goal is often expressed as the development of a stronger civil society.
A good citizen takes an interest in local affairs, shows concern for others, is prepared to provide leadership and to take responsibility, and insists on the importance of transparency and accountability.
Programmes sponsored by local institutions, non-governmental organisations (NGOs), governments or international organisations will help people who want to understand better their own place in a democracy, how they can make their voices count, or secure advice on their own problems. Members of any community should be encouraged to keep themselves informed on issues of public policy, to formulate considered opinions, and to express these freely. Corporates, too, should be good citizens.
Given that people of different ages, or with different backgrounds, have different interests, a range of programmes may be called for.
Plainly, it is important to involve people when they are young. Many will already be members of sporting, social or religious groups. They can discuss issues and values, seek information and widen their horizons beyond their immediate community and – with help – raise the level of their participation in decision-making.
On the other hand older people may be more ready to take part in workshops or seminars where particular problems can be debated more formally, and where the views expressed may be reflected in the policies of local or national bodies

Prevention
The health system, healthy lifestyles and preventive programmes, are issues no good citizens can ignore, and the community can only benefit from public deployment of the arguments.
At all levels, people will want to exchange ideas about the protection of the environment.
Though schools may have difficulty in including "civics" in their curriculum, teachers have countless opportunities to emphasise the importance of high standards, and respected values.
Workshops or short courses can lift the horizons of public servants, giving them a better appreciation of their own roles and so improving the performance of their duties.
The media have a responsibility not only in their day to day reporting but in articles they publish, or talks they broadcast.
Published guides to parliament and governmental institutions in individual countries, which set out structures and facts in a straightforward fashion, will assist people to understand where they belong and how they can contribute.
In all this effort Island nations are not alone. They are in many ways interdependent, can learn from each other and work together to benefit their citizens. They can draw on support from a range of institutions – national and international, academic, NGOs – to keep up to date with so-called international best practice. As an example, the Centre for Citizenship Education in New Zealand is building a knowledge bank on the internet to which all have access.
Published 3rd qtr, 2003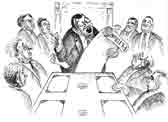 To get across the principles and practices of good citizenship, people can use:
seminars
workshops
short courses
sporting, social and religious groups
radio talks
newspaper articles
exchange visits
NGO programmes
guides to parliament, governmental and/or legal institutions
international institutions.