Citizenship Education 2006
Adequate citizenship education can make a difference - and public policy now more clearly acknowledges this for New Zealand. It can help people know their rights, have their voices heard, choose representatives to govern on their behalf and participate more effectively in their community. Citizenship education is not only important for each of us as citizens. It is also important for those who influence how citizens can participate in educational, Parliamentary, governmental, legal or other services.
The 6th New Zealand edition, online and in CD Rom, of the DecisionMaker Guide to Parliament and Government coincides with clearer, stronger Parliamentary and government committment to citizenship education.
Parliament's Speaker Margaret Wilson is keen to get as much information as possible into the public domain about the functioning of Parliament and our system of government. She is an advocate of three main projects underway to achieve this:
one integrated new website with information about Parliament and the Parliamentary process for launch later in 2006
the establishment of a Parliamentary television service providing coverage from the debating chamber and selected Select Committee rooms, and
the extension of the radio broadcast feed to some of those areas currently unable to receive the service.
The November 2005 versions of the essence statment and achievement objectives for New Zealand social science make, as Education Minister Steve Maharey says "students' understanding of their role as citizens explicit at every level of the curriculum".

Parliamentary Select Committees reported to Parliament in August 2005, calling for more citizenship education. The Centre for Citizenship Education October 2005 scoping document distills the preferences of people consulted in Parliament, government and education.

DecisionMaker citizenship education editions, with supplementary resources built up since 1990 with many public and private sector participants, enabled us to expand understanding of how Parliament, government and the law works. Each DecisionMaker Guide to Parliament and Government, since Asia Pacific Economic News developed the titles in consultation with New Zealand's Parliamentary Service in 1990, has incorporated innovations.

The 2000 edition introduced The Big Picture to support an embryonic whole-of-government approach.

The 2003 edition expanded citizenship education online, and, supported by Cabinet, built on these foundations, providing more public-good content and a coherent structure.

The Directory for Citizenship Education, one of the magazines that make up this composite DecisionMaker Guide to Parliament and Government, draws together information from a number of sources to provide a list of contact details for services useful to those exercising the rights of citizenship.

The Directory on Cultural Diversity, launched in 2005, helps deliver citizenship education to new settlers and other people who should not be overlooked, and helps them and members of the host society find each other. The Directories, like all DecisionMaker publications, are available online – on www.decisionmaker.co.nz.
DecisionMaker continues to build on its past editions such as How participation works – incorporating perspectives on best New Zealand and international practice in citizenship education. It reaches out to public servants, offering a professional development resource that helps them provide integrated government information and services for new settlers and other citizens.

We are building on our Pacific Citizens edition, which in turn have a pedigree reaching back to the major period of self-determination and growth of responsible government in New Zealand's neighbourhood.

The first qtr 2006 release of the 6th post election edition of the DecisionMaker Guide to Parliament and Government, as well as embracing the new technology in multi media context, will be followed by an increasingly active schools, new settlers and workplace focused citizenship education programme online at decisionmaker.co.nz.

The Governor-General has encouraged DecisionMaker and social science educators to work closer together, and they are, in developing teaching resources with a focus on citizenship - such as "MMP, the journey".
We remain committed to the view that information is not in itself knowledge, but only a resource from which knowledge can be extracted - helped by good tutors and the new technology shaped as e-democracy and e-government tools.

Electronic search engines allow those in the know to find information they're looking for; publications such as ours allow people to discover both knowledge that they need (whether or not they were looking) and its relevance and context.
This edition also marks stepped up cooperation with the Centre for Citisenship Education, a charitable trust, and the citizenship education network which lifted off in New Zealand in 2005.

DecisionMaker continues to improve its publishing service with partners, and facilitates the development of policy planning to improve citizenship education in schools and communities – sharing experience with New Zealand and international best practice.
By Anthony Haas, publisher, Asia Pacific Economic News Ltd.
Updated 3 March 2006
Pictured above, Speaker Margaret Wilson
Pictured below, Parliamentary complex, Wellington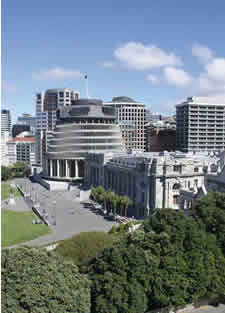 Adequate citizenship education can make a difference - and public policy now more clearly acknowledges this for New Zealand.