How Clark worked to form MMP Govt.
The Mixed Member Proportional (MMP) New Zealand political system meant Labour leader Helen Clark needed to negotiate with five minor parties to enable her to form a government.

Stable, inclusive goal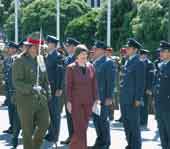 At her first post Cabinet media conference following confirmation of the mix of election night provisional and subsequent counting of special votes, then caretaker Prime Minister Helen Clark repeated that she sought a stable, inclusive 2005-2008 government - her third. She was not giving a deadline or ruling out any option in her bilateral talks, but the result could include coalition partners, agreement to support votes of confidence and provision of supply to her government, or simple decisions to abstain and not act to bring her government down. Words such as power sharing, and forming a minority government came to the surface in public comment during the negotiation period. Her challenge was the numbers game - how could she get a majority and how long could she keep it.

She and deputy Michael Cullen held talks that party chiefs of staff arranged, needing to rally at least 61 MPs to support a Labour led government.

Her experience is that parties agree to give support to the government in return for agreed policies being supported in the annual budget round. Agreements are made at leader, ministerial and party whip levels. She welcomed the honourable way people keep their word.

Seeking Parliamentary majority
The final vote, which could have been but was not challenged successfully under electoral law, gave Labour a two seat lead with 50 seats to National's 48 in a 121 seat Parliament.
National leader Don Brash conceded defeat to Helen Clark after the final vote was released by the Chief Electoral Office two weeks after election day. Brash said the result was "perhaps the least conclusive outcome to a general election since the introduction of MMP". Clark said Labour had approximately the same vote in elections in 2005 as she had in 2002 and 1999, when she was able to form her first government.
Caretaker government
Helen Clark issued a statement about the immediate post-election timetable. She said that while consultations took place about the shape of the government, the current government continues in caretaker mode.
The key principles of the caretaker convention are that the normal business of government and the day-to-day administration of departments and government agencies continues as usual.
Decisions which were taken before the election continue to be implemented.

The caretaker government does not take significant or new policy decisions, or decisions with long-term implications, unless they cannot be deferred.

If neither deferral nor temporary arrangements are possible, the government would consult to see whether a proposed course of action has the support of a majority of the House.
Helen Clark said that the appointment of a government takes place after the Governor-General is satisfied that a group of parties can command the confidence of the House.

By law, Parliament is required to resume no later than Friday 18 November.
"The task now is for arrangements to be made which will ensure stable government in New Zealand for the next three years," Helen Clark said during the month after the election in which her status was that of caretaker PM..

National leadership
Don Brash was reconfirmed as National leader by his caucus immediately after the election he lost, and he said he did not intend stepping down before 2008.

Provisional voting results reported on election night suggested the 120 seat Parliament would temporarily expand to 122, using the MMP "overhang" rules. But the special votes caused National to lose one seat off the provisionals, meaning only one seat was created by the "overhang" rules.

Parties' internal processes
Timing of negotiations to design a government that lead the Governor-General to invite Helen Clark to form a government was affected by the internal processes of the minor parties - ranging from hui to conferences.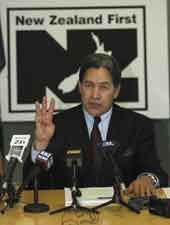 Some of the parties with small numbers of MPs said publicly they had reservations about being in a government with some of the other small parties. Clark's negotiations included probing to find more fully what these reservations meant.
Winston Peters, NZ First leader, became foreign mnister outside Cabinet - as well as racing ninister and associate senior citizens minister in the third Clark government.
Cabinet conventions
The Cabinet Manual has been changed during Clark's term as PM to accomodate conventions evolved under MMP - such as allowing small parties in a government ways to demonstrate their identity. Such conventions change the concept of collective ministerial responsibility that operated during the First Past the Post system that existed in New Zealand before the early 1990s.

In her foreword to the Cabinet Manual, referring to important clauses 3.23 and 3.24 about collective responsibility, Helen Clark wrote in the edition operating during her second term that it "contains significant new material reflecting the evolution of coalition government under proportional representation. It amends the doctrine of collective responsibility to allow coalition parties to express differentiated positions, within an agreed framework".

Governor-General expected orderly transfer of power
Labour leader Helen Clark worked for four weeks and two days to form a government following the cliff hanging result of the 17 September New Zealand general election.
Although National Party leader Don Brash conceded defeat on 1 October 2005, he could have gone to the Governor-General and offered to form a government.

He still has the option to do this sooner or later if Helen Clark loses the confidence of the majority of MPs before the general election due by late 2008.

Reserve powers of Governor General
As attention focused on how the Government is formed (or re-formed) it moved in part to the discretion the Governor-General could exercise. It is her Reserve powers that would matter. Find out more about the Govt House view as provided in 2003 to DecisionMaker.
Governor-General Dame Sylvia Cartwright
told social science teachers on 26 September 2005 it was most unlikely she would have to call an early election - expecting that Helen Clark or Don Brash would advise her one of them could form a government.

Dame Sylvia said most commentators were saying it would be a Labour led government in coalition or with smaller parties.
I won't get involved in negotiations. I might say, "give it another go" Dame Sylvia said in a briefing for teachers on the role of the Governor-General.

It is so unlikely I would face my worst nightmare of a 61-61 dead heat she said.

Find out more from the website of the Head of State.

Dr Brash has told DecisionMaker his views on the role of the Prime Minister and on the role of the Leader of the Opposition, complementing views we have from Helen Clark and Bill English. Find out more about their views on role of PM, and role of Opposition leader.

Overall parties status in election
The Maori Party won four electorate seats to join the total of eight parties elected to the 48th NZ Parliament. DecisionMaker compares their votes and seats gained in the 47th Parliament, which lasted between 2002 and August 2005.

Winston Peters - and collective responsibility
Following the agreements between Labour and the parties that enabled Helen Clark to form a Government that had a good prospect of winning confidence and supply votes in the 48th Parliament, the leader of NZ First, Winston Peters, was apponted Minister of Foreign Affairs, outside Cabinet.

This appointment attracted a measure of media and international attention as questions about the implications of having a Foreign Minister outside Cabinet were raised. Winston Peters' positions on some foreign relations issues seemed to have been at odds with the Government he now serves.

Helen Clark, inevitably aware of these perceptions, said the portfolio did not include refugee issues - that was in the Immigration portfolio, or China free trade, that was in the Trade Negotiations portfolio. The NZ First-Labour agreement gives emphasis to the South Pacific as a priority target for poverty reduction under the aid programme. Mr Peters is also responsible for NZAID, which previously had a Minister of its own inside Cabinet.

Some of the new generation...
Some of Labour's younger generation have been given portfolios that will affect Pacific citizens. David Cunliffe, inside Cabinet, is Minister of Immigration. Winnie Labour, outside Cabinet, is associate Minister of Pacific Islands Affairs.

Helen Clark achieved much by creating a third Labour government in a row - using old and new blood. She has not stopped - and, along with Dr Brash, started in the 48th Parliament indicating a desire to fight to form the next government from within the 49th Parliament. Unless things go wrong for Helen Clark, and they could in a finely balanced Parliament, the next election will be in 2008.

Time will tell.
by Anthony Haas, Asia Pacific Economic News Bureau, Parliamentary Press Gallery, Wellington.
Updated content and links on 21 December 2005. Part of the content of "Forming Government 2005" has been included and extended in the DecisionMaker report on the first decade of MMP.