Cooperation
Working with Ethnic Communities
Diversity Action
Good Citizens
Diversity demographics
Ten point diversity action
More about diversity action
Constitutional
Govt diversity oriented
Maori sources
NZ Pacific sources
NZ Ethnic sources
NZ Asian sources
NZ settlement sources
Religious and Interfaith
Social studies curriculum
Disclaimer
Directory for citizenship education
Government departments
Parliamentary offices
Crown entities
Information and services
Local authorities
Help with rights
District health boards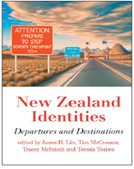 Working with Ethnic Communities
Working with culturally diverse ethnic communities is made easier if individuals and organizations amongst new settlers, and the host society, can find each other.
Consequently, the Centre for Citizenship Education and partners in the Diversity Action Programme are working to identify and draw attention to significant sources
for new settlers - in the Directory for Citizenship Education
about ethnic organizations - in the Directory on Cultural Diversity.
and facilitate links, such as
to interfaith.org.nz, where people from different faiths are encouraged to participate in interfaith activities,
to "A Practical Reference to Religious Diversity" published by the New Zealand Police in October 2005, and
Working together with ethnic communities", the NZ Police ethnic strategy towards 2010, has also been published by the Office of the Commissioner of Police, P O Box 3017, Wellington.
The Centre for Citizenship Education (CCE) and other partners in the Diversity Action Programme offer information sources to help people find their own Diversity Pathways - development in this multi part publications project are in design to assist for this and some years ahead.
Objective
The initial publication supports national and local settlement strategies, and integrates the work of a number of prospective partners. It is for
the New Zealand Diversity Action Programme, facilitated by the NZ Race Relations Commissioner
migrant resource service networks coming into force in the 2004-05 and next financial year as anticipated by the New Zealand Settlement Strategy
selected intermediaries, particularly the 20 priority migrant resource personnel working in local government areas and those who should assist them and their clients
social studies in the New Zealand curriculum, and the teachers, students, parents and communities touched by its potential for teaching about cultural diversity
informing migrant resource service personnel, community relations, advice bureaux and other relevant units in and around local government
Parliamentarians, Mayors, senior management, e-government specialists, School of Government and others whose work includes outreach of central government resources to bear on local responses to migrant settlement needs
Maori, Pacific and ethnic organizations - and others seeking to foster cultural diversity in New Zealand
education at a number of formal and continuing levels, including social studies and English as a second language
the wider public, who are curious about cultural diversity in New Zealand and want to connect with their local cultural communities
Consultations are being held on additions to this and development of subsequent publications with prospective participants by representatives of the Centre for Citizenship Education.
Back to top
Affiliated programs Sitemap Privacy Accessibility Terms of use

Search powered by
Copyright © 2006 Asia Pacific Economic News Ltd. All rights reserved. Users of the Guide are free to make copies or entire pages for personal or educational use, but not for commercial purposes. Copies of individual photos or ilustrations may not be made without the permission of the copyright holders. Use of this website signifies your agreement to the Terms of Use.